The finalists from group North and West are set
25. Jun 2022 / Category: Press Release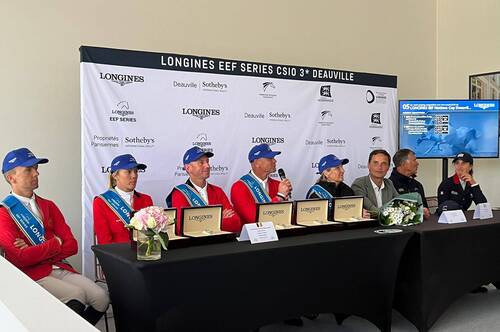 Belgium, Spain, Ireland, Sweden and Portugal qualify for the Warsaw Final
The Nations Cup held today, Friday June 24th, at the Pôle International du Cheval Longines-Deauville in Normandy, was thrilling right to the very last fence jumped.

This competition, the first of the two semi-finals for the EEF series, decided the first five nations to earn a pass for the LONGINES EEF Series 2022 Final in Warsaw. The five teams that qualified today in order of ranking were Belgium, Spain, Ireland, Sweden and Portugal.

Ten teams competed in two rounds of the Nations Cup held on a course built by French chef de piste Yann Royant, consisting of 12 jumps and 15 efforts over jumps measuring 1.50.
The two rounds finished with Ireland, Belgium and Spain on 4 faults resulting in a jump-off. In the end it was Wilm Vermeir riding Joyride S who handed a win to the Belgium team crossing the finishing line with a clear round in 41.65 seconds, beating Spanish rider Eduardo Alvarez Aznar on Full Option van't Zand also clear in 42.62 seconds. Ireland finished third on 4 faults in the jump off having fielded Kevin Gallagher and Ballypatrick Flamenco.

The Belgium team consisted of Koen Vereecke/Lector VD Bisschop (0/0), François Mathy Jr/Uno de la Roque (0/4), Gudrun Patteet/Sea Coast Donna Z (8/8) and Wilm Vermeir/Joyride S (0/0/0) captained by Fabienne Daigneux-Lange.

Spain's team was formed by Eduardo Alvarez Aznar/Full Option van't Zand, (1/0/0) Armando Trapote/withTornado VS (0/40), Santiago Nunez Riva/Valentino de Hus (0/4) and Manuel Fernandez Saro/Jarlin de Torres (0/0) led by chef d'equipe Carolo Lopez – Quesada.

The Irish Team had selected Thomas Ryan/Springfield (0/0), Jessica Burke/Namamia (0/4), Kevin Gallagher/Ballypatrick Flamenco (0/0/4) and Jenny Rankin/Carmela Z (0/8) led by Chef d'Equipe Taylor Ward.

It is worth noting that 25-year-old Kevin Gallagher won the 2021 Irish Show Jumping Championships riding the same horse, Ballypatrick Flamenco.

After the Deauville Nations Cup, held during the prestigious Sotheby's International Realty CSIO, the teams competing in the Longines EEF Series now face the second semi-final in Budapest for nations qualified in the South and Central Regions.

The series comes to an end with the Warsaw Final (September 8-11) in which Belgium, Spain, Ireland, Sweden and Portugal will compete alongside the five best teams that will qualify at the Budapest Nations Cup next week.

Starting list and results on Longines Timing - click here
Official Show site - click here
Complete Longines EEF Series qualifier points table - download here (at the bottom of the page)
Quotes

Chef d'Equipe Fabienne Daigneux-Lange
"This was a fantastic team and a grand competition; they all jumped extremely well and I am delighted. The choice of the rider for the jump off had been made before the class started and with a clear round the choice was in any case the fastest combination."

François Mathy Jr
"This Nations Cup was an extraordinary class, filled with suspense in both rounds and with three top level teams. I think it was a wonderful experience for everyone."

Koen Vereecke
"It was all perfect and could not have gone better than it did."

Gudrun Patteet
"This EEF Series is really excellent and I am very happy to be here."

Wilm Vermeir
"It was a magnificent competition; my horse is very fast and I was at an advantage being third to go in the jump off. It was all perfect."